Notes, References, and Links for further study:
1. Invitation to the Tragedy and Hope online community
2. Peace Revolution primary site (2009-2011)
3. Peace Revolution backup stream (2006-2011
a. The 9/11 Synchronicity Podcast begins on the bottom of this page.
b. Project Constellation is also found at the bottom of this page.
c. The Transcript for Project Constellation is found here on Scribd.com
4. Meria Heller @ Meria.net
5. Meria Heller's Keynote Speech @ the 2006 9/11 Conference in Chicago
6. Richard Grove's Films on Blip.TV (page 1 of 6, beginning with most recent)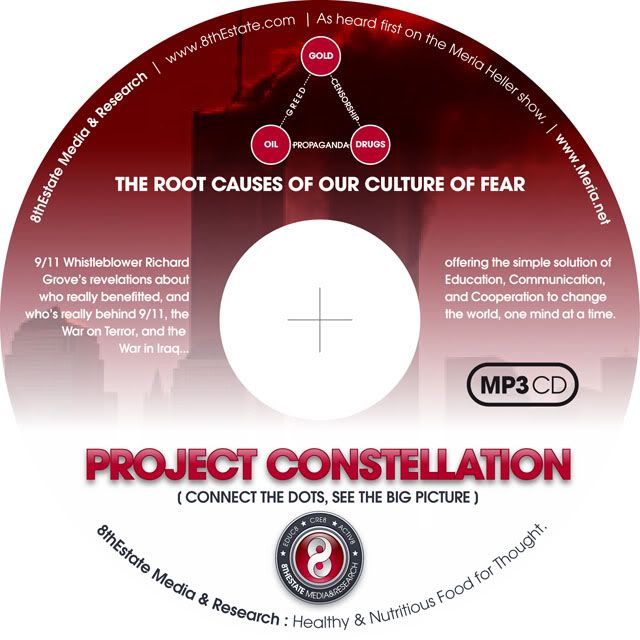 Peace Revolution partner podcasts:
Other productions by members of the T&H network:
Top Documentary Films dot com: Hijacking Humanity by Paul Verge (2006)
Top Documentary Films dot com: Exposing the Noble Lie (2010)
Top Documentary Films dot com: The Pharmacratic Inquisition by Jan Irvin (2007)
THANK YOU FOR YOUR SUPPORT! If you would like to donate so that we can continue producing independent media without commercial advertising, simply click the button below for a one-time donation:
Alternatively, You can become a Member and Support our ability to create media for the public (while You make new friends and enjoy educating yourself along the way) by subscribing to the Tragedy and Hope Community: Monthly @ $14.95 / month
Yearly @ $120.00 / year
*Subscription details on Subscribe page in the Top Menu.